Quotes on innovation: innovation is crucial! But not always easy. It requires more than a great innovation process to succeed.
Sometimes you need a bit of inspiration yourself to go after that great idea.
Here's a list of my 25 favorite famous quotes on innovation and leadership.
I hope they inspire you to do great things!
PS: you will find easy-to-use images with quotes on innovation at well.
Bonus
Download a free checklist
: download 100 inspirational quotes about leadership, success, goals and change in an easy-to-use banner format.
Enjoy!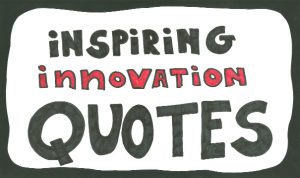 Quotes on Innovation: infographic
Quotes on Innovation: top 25
Here's a list of my 25 favorite quotes on innovation with easy-to-use images.
1. "If you always do what you always did, you will always get what you always got." _Albert Einstein
2. "If the only tool you have is a hammer, you tend to see every problem as a nail." _Abraham Maslow
3. "It's tough when markets change and your people within the company don't." _Harvard Business Review
4. "Necessity is the mother of invention." _Anonymous
5. "We don't know who discovered water, but we're certain it wasn't a fish."  _John Culkin
6. "Ideas won't keep. Something must be done about them." _Alfred North Whitehead
7. "The stone age didn't end because they ran out of stones." _unknown
8. "Innovation is the ability to convert ideas into invoices." _L. Duncan
9. "We have approximately 60,000 thoughts in a day. Unfortunately, 95% of them are thoughts we had the day before." _Deepak Chopra
10. "Ideas are useless unless used." _T. Levitt
11. "Innovation is anything, but business as usual."_Anonymous

12. "Creativity is thinking up new things. Innovation is doing new things." _Theodore Levitt
13. "Swipe from the best, then adapt." _Tom Peters

14. "Every child is an artist, the problem is staying an artist when you grow up." _Pablo Picasso
15. "A pile of rocks ceases to be a rock pile when somebody contemplates it with the idea of a cathedral in mind." _Antoine Saint-Exupery
16. "If you want something new, you have to stop doing something old." _Peter F. Drucker
17. "Creativity is allowing oneself to make mistakes. Art is knowing which ones to keep." _Scott Adams
18. "Truly creative people care a little about what they have done, and a lot about what they are doing. Their driving focus is the life force that surges in them now." _Alan Cohen

19. "Don't be afraid to take a big step when one is indicated. You can't cross a chasm in two small jumps." _David Lloyd George

20. "You can't solve a problem on the same level that it was created. You have to rise above it to the next level." _Albert Einstein
21. "What we've done to encourage innovation is make it ordinary." _C. Wynett, Procter & Gamble.
22. "Remember, a dead fish can float down a stream, but it takes a live one to swim upstream." _W.C. Fields
23. "I can't understand why people are frightened of new ideas. I'm frightened of the old ones." _John Cage
24. "Intuition will tell the thinking mind where to look next." _Jonas Salk

25. "The difficulty lies not so much in developing new ideas as in escaping from old ones." _John Maynard Keynes
Like these quotes on innovation?
Want more?
Great Quotes about Innovation and more
Here's a PPT document with my 100 favorite quotes in an easy-to-use banner format.
Feel  free to share on social media, website, … [a link back to this page would be highly appreciated :-)]
Enjoy!